I played four years of Division I basketball at Georgetown University. My college experience was tough. When you come in as a freshman after coming off the heels of a stellar senior year it's very difficult to accept the role of being a rookie. You basically have to start over and check your ego at the door. It's difficult to start over after you think you know it all and have been through it all. However, the reality is, you are entering a new team its leadership already established. The team does not need your leadership, it needs you to follow. You have to transition from the mindset of a leader to a mindset of a follower. You have an entire new cast of teammates you have to get to know and learn to trust both on and off the court. You have an entire new philosophy to along with a new coach. The entire playbook is different from the one you already know like the back of your hand. The school and campus are even different. No one knows you! You are not as important as you may think. This can be tough for any rookie and needless to say, I struggled. I didn't adjust as well as I should have. Although I knew I wasn't ready to be an impact player at that level in my first year, I listened to the wrong people…folks who didn't allow me to give the new process a chance. I didn't receive the right advice on how to be patient and remain coachable. This continued throughout my freshmen year. I wasn't humble. I wouldn't accept my weaknesses. I blamed the coach for my unhappiness and lack of confidence. My coach only reminded me of my weaknesses every single day only with the hopes that I would listen and improve upon them and for that I resented him. That was his job and his position at Georgetown was dependent on my improvement. He had no choice but to be tough on me. I only realized his role in my development when I became a coach. It took me years to appreciate what he was trying to do and what the right way was for me to react. But as a freshman with no confidence, it was a recipe for disaster. I became reclusive and depressed. I no longer wanted to hang out with my friends and I struggled to keep my grades up. My sophomore year I was placed on academic probation. It was then that I realized I needed to get my act together. Despite my own struggles, our team reached the Sweet 16 in the prestigious NCAA tournament. I didn't feel a part of it because I spent most of that season on the bench just watching. I no longer loved the game. But then when basketball was threatened to be taken away, I straightened up. I managed to get my act together on the court and in the classroom, not just for me, but for my teammates and family. I started most of my junior and senior years, but our team didn't have much success.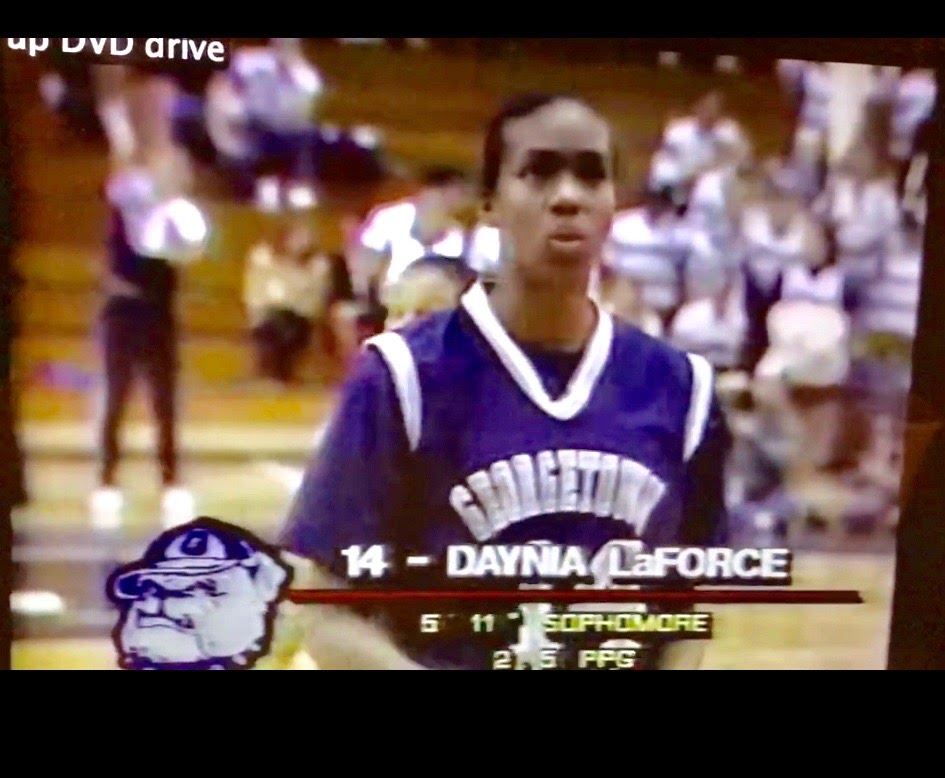 If I didn't spend most of my energy wondering "why not me" I definitely think I could have had a more successful playing career. That is what I want now for my boys. The why doesn't matter . It is important to focus on what you can do to get better. The coaches will notice. Never blame the coach or abandon your team. No coach wants to lose with their best player on the bench. That's the advice I give my sons. If you are not playing there must be a reason why. Communicate with your coach. Show them you are invested in the team by asking for extra workouts, watching film, and ALWAYS have a positive attitude.
Knowing what I went through as an athlete playing Division I basketball in a very competitive conference and coaching at the highest level for 22 years, I am able to provide unique advice to my children. This has helped them both attain success conquering the mental and emotional aspect of the game. They know they have to value and respect their role and if they want a better role it's up to them to improve. They must respect coaching and want to be coached. Their behavior on the bench is just as important as how they act on the court. Look closely and you will notice that if my sons are on the bench they are both seated right near their coach. This shows they are engaged and they are paying attention and focused on what is needed in the game so when they are called upon to go in the game, they are ready. I have told them that extra workouts and film sessions help to develop their game physically and mentally.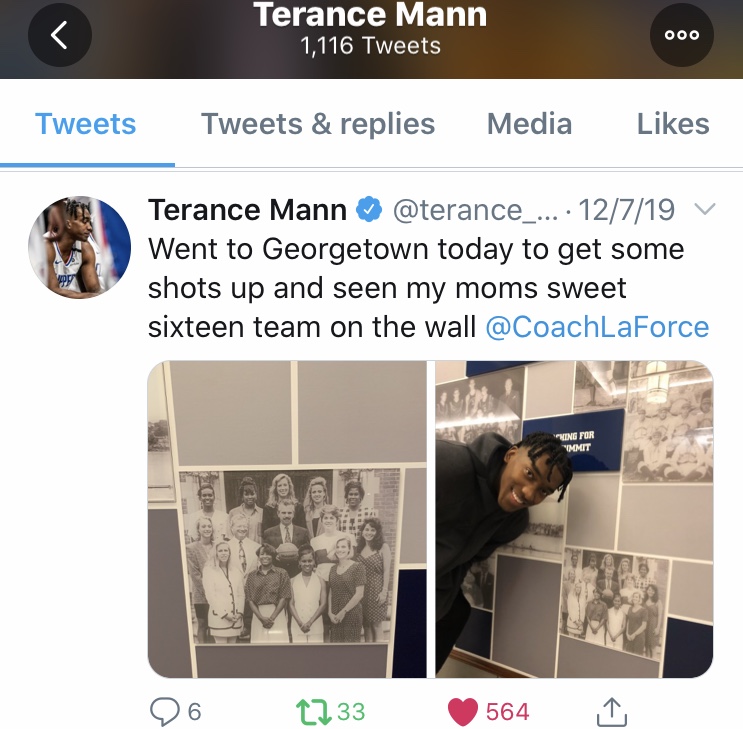 When the Clippers were recently in Washington to face the Wizards, I headed to the nation's capital to see Terance play. He had some free time so we walked around Georgetown. He listened as I reminisced about my playing days and my escapades in DC. We walked past restaurants I frequented and bars I partied in (alcohol free of course – lol). While finishing up his practice at the new John Thompson Training Center he saw my Sweet 16 team picture on the wall. He was proud to see his mother be a part of the history of Georgetown women's basketball. It was a full circle moment and very surreal to see how far I have come and how far those lessons have taken me and my family. Little did he know that in that picture I was at the lowest point in my life and was ready to quit the game I loved. However, I persevered and stayed resilient because I knew one day I wanted my kids to look at that picture and be proud of their mom. I didn't quit. All that I went through and sacrificed would be my testament and would allow them to have a great experience along with a never ending passion for the game.something which I struggled with at the time. If their tank becomes low on passion for the game, I am there to fill it back up. If they become discouraged I know exactly what to say. If their relationship is not great with their coach, I know exactly what they should do. I have come full circle to help the next generation, my own sons. Never, ever quit boys!! You have all the answers to the test.