The unexpected death of Kobe Bryant that kicked off this volatile 2020 had a huge impact on many, including my eldest son, Terance. Months later, we are still shocked and saddened.
As I sit in the chair at a new LA salon my phone rings. The caller is Corrie, my friend and a high-end realtor who helped Terance find his apartment. She has lots of connections in LA so when she called I was quick to answer the phone. She told me she had left a message for Terance because she had two tickets to a screening of a new movie "Just Mercy," hosted by Kobe Bryant and Jamie Foxx. Knowing what a huge fan Terance is of Kobe, I immediately called him and told him to call Corrie back asap so she could add him and a plus one to the guest list. I was hoping Terance would add me as his plus one but instead he added his roommate. I didn't feel bad for long becauseI knew what huge fans they both were of Kobe and it would be a great opportunity for them to meet him. As a mother the first thing you learn is that you have to make sacrifices for your kid's happiness and when your child is happy you are happy.
A few hours later Terance picked me up at the salon. The entire way home he talked about how excited he was to meet Kobe. He was acting like a kid on Christmas Eve. As soon as we got home he changed and was out the door. His excitement was palpable.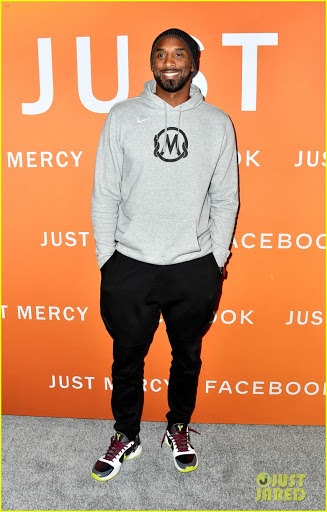 What I thought would be a long, late night turned into an early evening. Just about two hours later Terance returned home with a smile from ear to ear. I asked him why he was back so early. He explained that he saw Kobe across a crowded room. That was all he needed.
Terance didn't have a chance to actually say hi and tell Kobe how much he idolized him but he had a chance to lay eyes on his favorite NBA player. Kobe Bryant is the reason Terance decided he wanted to play in the NBA. Kobe's work ethic and talent were on display every night. He was not to be denied and Terance could relate to those intangibles. Terance did not even stay to watch the movie. He knew he had to be up bright and early the next morning. Terance saw Kobe up close and personal and was content.
Fast forward a few weeks later. It was Sunday afternoon and I was in NY preparing to travel back to RI. The night before I had a birthday party at my home in Queens. First birthday party I have had in years. It has been very difficult to celebrate a birthday in the middle of the basketball season. This year, for the first time in as long as I could remember, I had time to celebrate with family and friends. I was still in a celebratory mood when I received a text from Martin. I glanced at my phone. The text from Martin read: "Kobe Bryant died?" My mouth dropped. I could hardly breathe. Was this true? Was one of the greatest basketball players of all time really dead?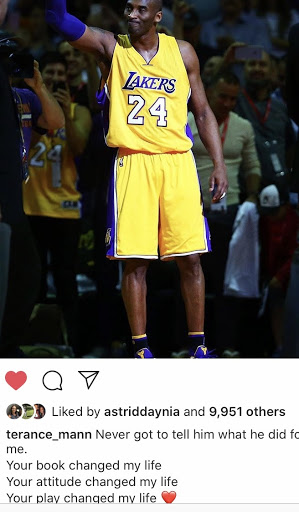 Shaking, I quickly opened Twitter and as I was browsing the Internet for verification I received a FaceTime call from Terance. I knew right away something was wrong. I knew it was true. At that very moment I knew Kobe was dead. Terance doesn't use FaceTime much, especially to call his mom. When the phone connected all I saw was his head in the pillow and I heard the cries. I felt like someone punched me in the gut. I hadn't heard that cry since he was a toddler. Through the sobs I heard "Mom..he is gone…Kobe is gone. I didn't get a chance to tell him how much he did for me." My heart sank. I felt helpless. Hundreds of miles away, across the country, my son was hurting and there was nothing I could do. He was inconsolable. I just let him cry…I didn't say anything. There was nothing to say. We all felt the same pain. We were all speechless.
How could this happen? Who was responsible? Why Kobe?
A month has passed since Kobe, his daughter Gianna and seven others died in a horrific helicopter crash. The questions are still there for everyone Kobe touched. So is the pain. I try not to think about it because I not only grieve for the family, but I hurt for my son. Besides myself the only other person who shaped Terance's hoop dreams was Kobe and he was gone. Kobe was just hitting his stride as a basketball dad and influencer of the community. And just think it could all have been avoided. I don't know when we will all heal. There is a void knowing he will no longer continue to change lives. I do know this, for the millions of people Kobe's legacy affected I am thankful Terance Mann was one.